Memoirs of a Kirriemarian: The Flower Show
Raised vegetable bed By Srl
via Wikimedia Commons

The next installment in my Scottish Memoir series brings us a visit to the annual Kirriemuir Flower Show.
If there was one area of contention in my home town, it was gardening.
Dahlias by Joe Mabel [GFDL
via Wikimedia Commons
Every year the council gave a prize for the best-kept garden, meaning every household was on their toes to keep the gardens tidy. For some it meant cutting the grass and putting out a few bedding plants in the summer, others couldn't see the point in growing flowers and not growing vegetables for the kitchen. Then there were the in-between ones who grew both; among the vegetables and fruit bushes would appear sweetpeas on tall canes, gladioli, carnations and marigolds. Dahlias were a favourite, and toward competition time, they would be carefully protected from rain with plastic stretched over canes. And then there were the roses. Wee Charlie Taylor was the rose expert. His long plot was a tapestry of roses with a few vegetables added to keep his wife happy. But no wonder what type of gardening they loved best, all of them keenly contested for prizes at the annual flower show.
The year I was four, the committee of the horty (the Horticultural Society) consisted of: Bert Alexander – President, Davy Smith – secretary, Peter Kerr – treasurer, all upstanding members of the community and there to ensure rules were strictly adhered to. Make no mistake, competition was fierce: friendships and feuds were made and broken by the flower show.
The committee and their helpers spent the Friday beforehand setting up in the town hall. Tables marched in a straight line up one side, along the top below the stage and down the other. In addition there were lines down the middle. Every year the order was the same, flowers on the right, potted plants along the top, vegetables down the left and on the first line in the middle. The last rows were reserved for the womenfolk and bairns; for baking, jam, crafts and children's contributions. (Classified as industrial for some reason I never discovered.)
Tables against the wall were given a shelf, the better to make displays. Everything got covered in the same green cloth that was laundered by Mrs Alexander, so there was no chance of adorning your place with Granny's lace tablecloth. Hauled out every year, there were great crates containing plain green metal vases, two sizes, small and large, so that no one would have an unfair advantage by using a fancy vase for their entry.
By Friday evening all would be ready and people could bring in their entries. The wee hall at the side had its own tables set out with cards and vases; you had to bring your own plates for the vegetables and the baking - plain plates only please! The keenest competitors would line up multiple filled vases for their entries and woe betides anyone who stole one of their vases. Of these, Scabby Campbell was the scariest. I'm not sure why he was called Scabby, something from childhood I suspect, but he answered to it. That year, he yelled at me when I asked for one of his wee vases for my pansy posy (Class: Industrial - children under ten, garden flowers).
'Come o'er here, bonny lass,' my father said, one big hand hugging me to his thigh and the familiar thick worsted work trousers before he went back to his own preparations. 'Shame on ya Scabby,' he said, 'yer scaring the bairn.'
Scabby had the grace to look embarrassed, 'weel,' he admitted, 'I suppose I'm sorry Andy,' he threw a nod at me, 'I'm gae sorry lass,' and that was the end of it.
I waited at my dad's side while he placed big onions, heads tied with rubber bands, onto rings, (Class: onions, 3), pinned pansy heads on black cloth like so many butterflies, (Class: pansies, heads 3) and arranged tatties on a plate (Class: potatoes, white, 5). I had also watched while he dug up three rows of these in the garden till he found five all the same size and shape. Then he carefully displayed his dahlias, (Class: dahlias, assorted blooms) his pride and joy. When he was done, he helped me find a wee vase, filled it with water and arranged my posy.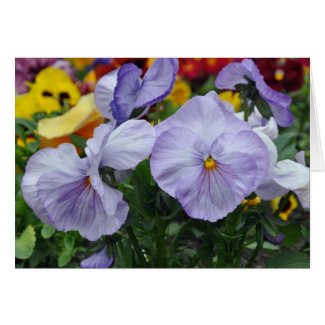 Note Card: Liliac Pansies
by
Just_Cards
View more
Pansies Cards

In the main hall entrants set out their produce, but not before filling out cards for each entry which had to be correctly labels for its class; rose, single; rose, vase; sweetpea, single; sweetpea, vase; gladioli, single; gladioli, 3; dahlia, 3 same; dahlia 3 assorted blooms;household plant, foliage only; household plant, flower; and so on. The vegetable section was the most popular with best white potato, best red potato, best round potatoes, best tomatoes, best turnip, cabbage, cauliflower, salad, carrots and leeks. The most hotly contested where the biggest leek, (Class: leeks ,largest, single,) and best carrots, (Class: carrots, best shape 3).
Overseeing everything was Davy Smith the secretary. He would settle at a desk near the door and inspect all the contributions and their relevant cards while Pete Kerr collected the one or two penny fee per entry.
'No, no, no,' Davy would snatch his bunnet from his head, scratch his bald pate and put the bunnet back on, 'pit yer name on the back. Crivens, how mony times dae ay hae tae tell ye fowlk? Dinae pit yer name on the front o' the cerd, pit yer name on the back o' the cerd'.
He would fling the offending article back at the entrant. Grown men would dutifully take
the offered fresh card from Peter Kerr and sidle off to rewrite it.
On the day, a team of six judges went round the hall before it opened to the public, complete with tape measure and Davy Smith's stubby pencil. That pencil fascinated me; it never seemed to change in size no matter how many times I saw it. He would take it from behind his ear, lick the tip and take copious notes on winners and losers.
When the doors opened there would be a dignified scramble to find the red winners, green seconds and yellow thirds, cups, rosettes and recommendations. Best in show was as eagerly anticipated as anything at Chelsea and many a grumbled complaint heard.
'Best hanging basket? That's no a hanging basket, that's a plant pot in a rusty cage,' Micky Shepherd complained looking straight at a blushing Mrs Meigle, mother of the Horty president), who took the award every year. Sure enough to an untrained eye, (mine,) it was a bit pathetic in comparison to Micky's profusion of hanging lobelia and begonias.
I didn't win with my pansy posy, but my dad got best potatoes, white, 5, that year. I guess it was worth digging up three rows of tatties for.